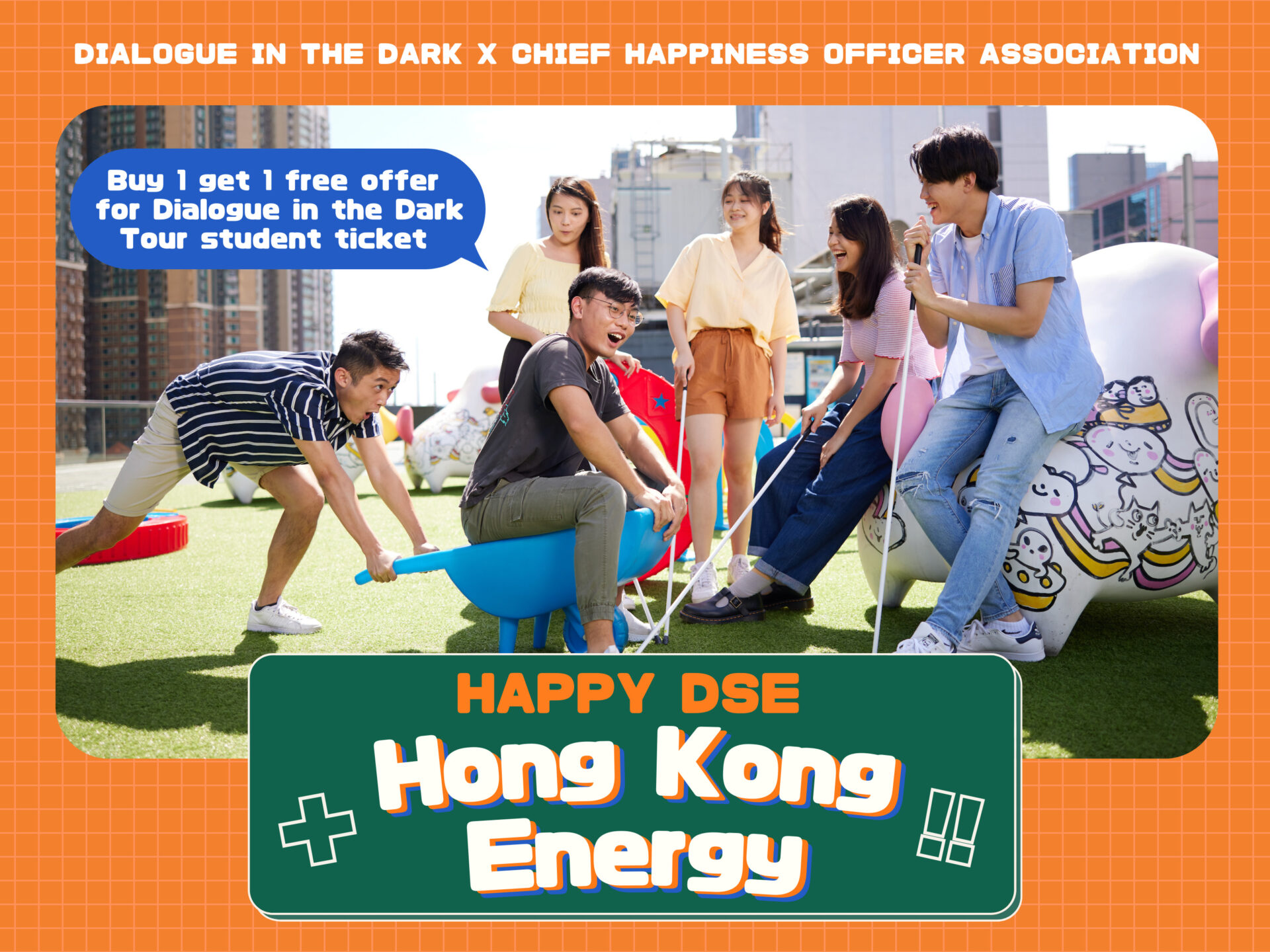 Happy DSE, Hong Kong Energy
Buy One Get One Free offer to DSE Candidate

 
You must be feeling anxious as a Diploma of Secondary Education Examination (DSE) candidate throughout the pandemic. While the examination is coming, Dialogue In The Dark (HK) Foundation and Chief Happiness Officer Association are backing you up! 
Under "Happy DSE, Hong Kong Energy" campaign, DSE candidates of this year can enjoy a "Buy One Get One Free" offer. From 11 April 2022, each candidate who purchases a student ticket of Dialogue in the Dark Tour, he/she can get an extra student ticket in the same experience. Invite your friend to come in the month after the end of DSE (From 14 May 2022 to 13 June 2022) and go for a mysterious dark journey! Get a chance to challenge your senses of hearing, touching, smelling and even tasting to 'see'. Experience nothing like never before in complete darkness. The evolution of the senses! All your senses come alive.
SUITABLE FOR
HKDSE candidates of this year
Ticket Price (Individual / Group)
150 (2022 HKDSE Examination candidates can enjoy a "Buy One Get One Free" offer)
Terms & Conditions
2022 HKDSE Examination Candidates who purchase a Dialogue in the Dark Tour student ticket will have an extra Dialogue in the Dark Tour student ticket for one accompanying student. Both must participate in the same session of experience.

 

This offer is valid from 11 April 2022 to 13 June 2022. Customers must complete the experience between 14 May 2022 and 14 June 2022.

 

This offer is only applicable to student tickets of Dialogue in the Dark Tour. It is not applicable to other experiences or group booking.

 

Customers can purchase tickets online or in person in Dialogue Experience Place. Customers must present a valid admission form to enjoy the offer when purchasing tickets in Dialogue Experience Place.

 

On the day of the experience, customers who purchase tickets must present a valid admission form.

Accompanying customers must present a valid admission form, full-time student card or student handbook with a photo. Please refer to "

Terms & Conditions for Individuals / Group booking" for more d

etails about student concession tickets

.

 

Dialogue In The Dark (HK) Foundation Limited reserves the right to request participants to present their valid documents for verification purposes.

Customers who fail to present a valid document are not allowed to join the experience. 

Dialogue In The Dark (HK) Foundation Limited

 shall not retain or record the personal data shown on these documents. Please also refer to our Privacy Policy (or called "Collection of Personal Data Policy") for more information.

 

Each candidate can only enjoy the offer once, it is not allowed to refund or converted into cash.

 

This offer is subject to change without prior notice.

 

In case of disputes, the decision of Dialogue In The Dark (HK) Foundation Limited shall be final.

 
Notes to All Types of Participants
Highly recommend to reserve tickets in advance as capacity is limited.
Caretakers of persons with disabilities are also eligible for concessionary rate on a ratio at 1:1
For any special assistance like a wheelchair, please study the Special Needs Visit Arrangements or contact us.
The following participants are NOT allowed to join the experience due to safety concerns:

Pregnancy

With heart disease or related diseases
With Claustrophobia
Severe mental illness / mental retardation / autism
Feeling uncomfortable, taking medicine or alcoholic drinks before tour

Persons paying concessionary rate may be requested by us to produce a valid document for verification of eligibility. E.g. HKID, Student Card, Registration Card for People with Disabilities etc.
All visitors are encouraged to arrive 15 minutes prior to the experience time.
Late-comers will not be admitted once the experience starts.
Free secure lockers will be provided to keep your personal belongings.
Photography or recording is prohibited during the experience.
All light-emitting or illuminated Devices or Apparel is prohibited (for Dark experience only).
Tickets sold are non-exchangeable, non-refundable after the transaction is completed and void if expired.

Please refer to Exhibition Terms and Conditions for more details.
* Purchasing tickets of any experience is not applicable to tax deduction.